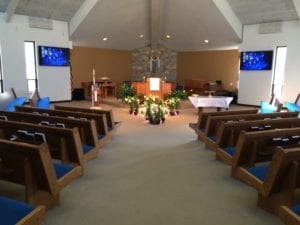 Good Shepherd Presbyterian Church (USA)
is a congregation located in the heart of
Joppatowne.
 We are the kind of church where people find a home. Our church welcomes all. While most churches say that,
Good Shepherd Presbyterian Church (USA)
means it and lives it.
Whoever you are, we believe that you are a gift of God and that you were meant to be a part of our community of faith.
We invite you to be on the journey with us! Worship with us, and grow with us.
Look around this website, come visit us, and you will discover that we are the kind of church you have been looking for.
In making a space for faith, Good Shepherd Presbyterian Church is
changing lives and helping people to grow in God's love.
The congregation is committed to
openness, transformation, joyful service, and spirituality.
The congregation's stated core beliefs are:
Alive In Us, The Holy Spirit Is At Work Revealing Jesus, Who Shows Us How To Live, And Revealing God Who We Will Love Above All Else.
In The Essential And Central Actions Of Worship, Education, And Service We Are Transformed And Called To Live Out The Radical Transforming Of The World.
The Reality Of Our Faith And The Shape Of Our Purpose Originate In The Dynamic Interplay Between Our Comprehension Of The Triune God ("Growing In God's Love") And Our Call To Action In The World ("Changing Lives").
The congregation's core values are:
The open arms of Jesus demonstrate the posture God calls us to have for our neighborhood and world: openness, welcome, hospitality, inclusiveness.
Good Shepherd is:
Commitment to Diversity and Inclusivity
Welcomes all in our community
Represents a number of races and classes
God's loving act of reconciliation in Jesus the Christ transforms the world and signals that the new age is dawned and God is still at work in the world. As the Body of Christ, the Church is called to undertake the mission of transforming all of life with a new openness to the presence of God.
Good Shepherd is:
Making a space for faith
Emphasizing that life is best lived by making love the aim
Changing the community by seeking justice
Working to shift "the system" that all have access to resources and opportunities
In poetic song the Prophet announces to the exiles a new exodus into and Eden-like land. He says, "You shall go out in joy and be led back in peace." Going out in joy describes the momentum with which Good Shepherd serves God by serving God's people.
Good Shepherd is:
Meeting needs in the community
Provides quality child care for the children of the community
Delivers a superior Early Learning Center through Preschool and Pre-K
Offers a safe place for Before & After School care
Supplies a summer camp that is both fun and educational
Doing mission through hands on service and giving
When Moses removed his shoes at the burning bush, it was a spiritual act conducted on holy ground. The spirituality we live is a holy ground of prayer, learning, worship, discernment, and intentional living.
Good Shepherd is:
Sharing a dynamic worship experience
Praying daily through worship, prayer chain, and pastoral presence
Studying through Bible Study groups, opportunities, and special services
Involving children through Shepherd's Kids in a positive, character building environment