Rev. Jeanne E. Gay
Pastor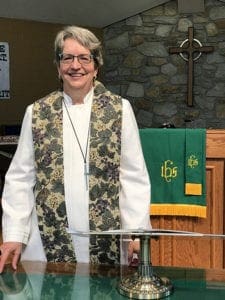 The Rev. Jeanne Gay has been a member of the Presbytery of Baltimore since November 2014—serving interims at Havenwood (Lutherville-Timonium) and Northminster (Reisterstown). Ordained in 2009, she served for five years as pastor at Firelands Presbyterian in Port Clinton, OH.
Jeanne says that the ministry is not just a second career for her but "maybe a sixth." Before hearing God's call and beginning seminary in 2004, she had been a high school English teacher, a secretary, a technical writer, a documentation specialist, a corporate trainer, an organization development consultant, and a college English professor. She has a B.A. in General Literature from the College of Wooster (Ohio), an M.A. In English from the University of North Carolina at Chapel Hill, and an M.Div. from the Lutheran Theological Seminary at Philadelphia.
Interim ministry is a good fit for her, Jeanne says. She enjoys helping churches define who they are and who God is calling them to be. She finds that a good part of the job is what she refers to as Mirrors R Us—holding up a mirror to the congregation to say, "Have you noticed this about yourselves?" Leading worship and preaching are the parts of ministry that most inspire her, but she also enjoys getting together with people to dream and plan, and she sees pastoral care as a privilege.
Dorothy Burns
Ministry Partner in Administration
Jeana Talbot
Director of Children's Ministries
Mary Kaye Kent
Clerk of Session
Farrell Maddox
Ministry Partner in Music